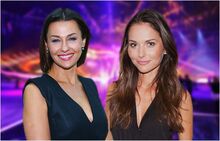 This list includes those who have acted as
presenters of The Origin Song Contest
. Since the
first edition
the host broadcaster has appointed one or more people as the presenters of the edition.
Presenters
Edit
| Edn. | Presenter(s) |
| --- | --- |
| #01 | Anna Popek and Paulina Sykut-Jeżyna |
| #02 | Jaana Pelkonen |
| #03 | Susanne Wille |
| #04 | Markus Lanz and Nina Eichinger |
| #05 | Anna Popek |
Notable presenters
Edit
Jaana Pelkonen, who hosted the second edition of the contest, was appointed as executive supervisor of the Origin Broadcasting Union starting from the third edition. She also represented Finland in the fifth edition of the contest with her self-titled song. Anna Popek is notable for being the first and so far only presenter to host multiple editions, after hosting both the first and fifth editions.
Presenters who have participated in the contest
Edit
Some of the presenters also competed in the contest, either before or after the edition they hosted. The presenters who also competed in the contest are listed below in alphabetical order.
Presenters not born in the host country
Edit
Some of the presenters selected by the host broadcaster were not born in the host country but were selected because of their connection with the host country. These are listed in alphabetical order.